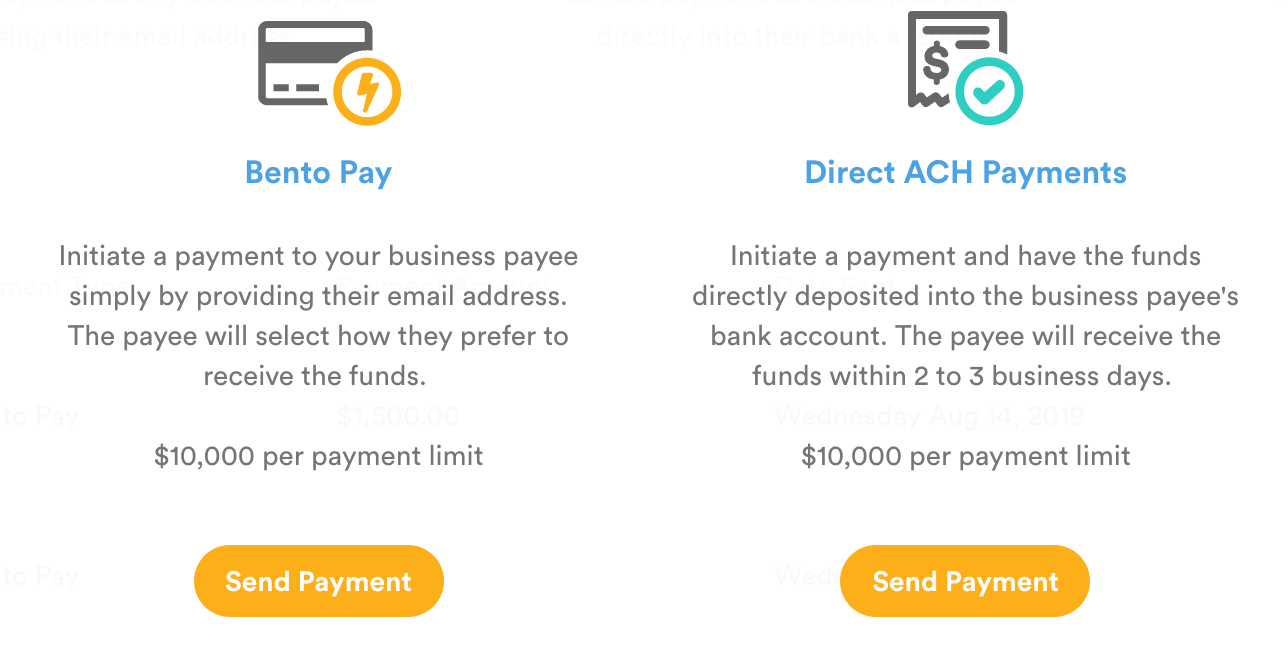 New Feature for Brink's Money Cards: Vendor Payments
20 Aug 2019
There's a lot of buzz around finance departments transforming from paper to paperless accounts payable processes – and it makes sense. Using paper checks to pay vendors brings more trouble than rewards to most businesses: it can be time-consuming, prone to fraud, and difficult to track.

Everyone knows the accounts payable job is particularly difficult, time-consuming, and human mistakes can happen. However, we believe it shouldn't be this way anymore. We are excited to offer a new digital experience to securely process vendor payments via Brink's Business Expense.

Did we mention it is super easy to use? If you know your vendor's bank and routing numbers, you can pay them directly via Direct ACH Payments. Or use the Bento Pay option, which only requires the email address of your payee to send a payment. Your vendor will be notified via email and will be able to accept or decline your payment, and then choose whether to process it using a single-use virtual card or a direct ACH deposit into their bank account– they won't need to disclose any sensitive banking information to you!

You can also save a list of payees in your account, especially for vendors you frequently pay.
Will payees need a Brink's Business Expense account?
Not at all; only the sender does! Anyone can receive payments, even if they do not have an account with us. All they need to do is provide an email address where they can get the notification from their sender.
Will my vendors accept virtual cards?
Virtual cards could be your vendor's best bet to receive secure and instant payments. If your vendor has a way to process cards, this is the fastest option to get them paid, without having to wait for an ACH transfer. These cards can only be used once and are tied to a specific payment amount. The fact that the virtual cards are 'locked down' to an amount is also great news you, as senders will never have to worry about short payments or overpayments. Virtual cards offer a combination of security and control, while simultaneously improving your vendor relationships.
What are the options for ACH transfers?
While virtual card disbursements are faster, we understand if your vendors prefer to use other methods. For this reason, we make it easy for you to also send funds via ACH transfers from your Brink's Business Expense account. Your payees will receive the funds in 2-3 days, directly on their bank accounts.

Vendors also have the choice to disclose their sensitive banking information or not. If they choose not to share, you will send the payment using Bento Pay and they will enter the ACH information themselves. Alternatively, you can create a 'payee' in your Brink's Business Expense account, saving their account and routing number information.
Will I be able to control who gets access to the 'Payments' feature?
Absolutely. This new feature works like any other in your Brink's Business Expense account – only the Business Owner and Admins with the right permissions will have access to send payments. For your security, by default we only allow the Business Owner to use Payments, but you can give access to any Admin to do the same.You will still remain in control of how, when, and where your funds are spent – or in this case, sent!
How about tracking and reporting?
The new 'Payments' feature is built into the Brink's Business Expense platform, so you won't need to worry about manual entries for any of these payments. A new record for each processed payment will be automatically recorded in your account, giving you visibility in real-time. Under the 'Transactions' tab you will be able to sort and view payment information to download a report as needed.

Have we convinced you yet? The success of our customers is our #1 priority. That's why at Brink's Business Expense we are always looking for new ways to improve day-to-day processes for your finance department, from company spending to vendor payments!
More from our insights library: