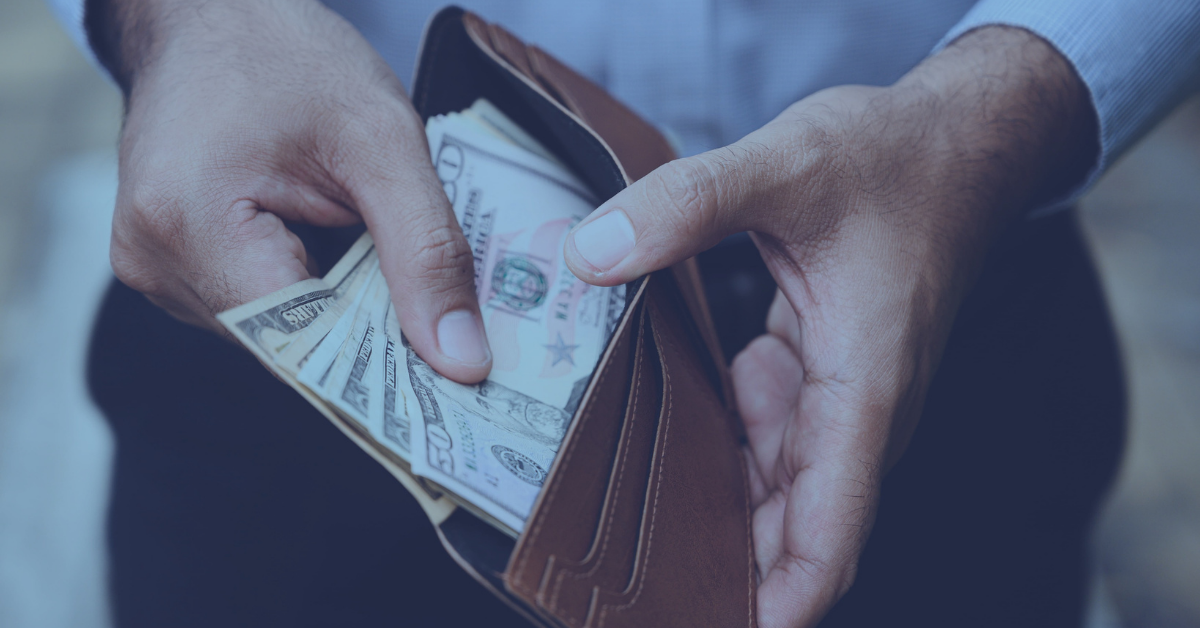 5 Proven Ways to Save Money: How to Save Your First $100
08 Mar 2022
If you're among 43% of Americans, saving money is a top goal. Whether you have never had a savings buffer or you need to replenish what you spent in 2021, the steps to meeting any saving goals are pretty much the same.
Financial goals are best approached in manageable chunks. Every penny saved really can add up, especially when it comes to learning how to build a savings strategy. These money-saving tips have worked for countless others who want to save their first $100 in savings quickly.
Since you are reading this article, congrats! You are well on your way towards that first $100 in savings. According to science, the next step is to write out your goal and visualize that you will make it happen. Think about how you will feel when you accomplish this goal – Will you feel pride? Peace of mind? Motivation to increase your savings further? Use this exercise to stay motivated to accomplish your goal.
How long has it been since you've looked at your monthly spending? Too many people assume that they are spending as they always have. However, your actual spending may look far different than you realize, especially considering the cost of many household items and groceries have increased over the past year. Before you plan on what you can save each month, you have to know what you need to live on. Now is the best time to get an accurate view of where your money goes.
How much do you spend each month on streaming services? When is the last time you looked at your monthly car insurance bill? Things like automatic app subscriptions, late fees, or impulse purchases can easily eat up any extra cushion in your monthly income. Look through your spending each month to catch those expenses that you are incurring and will not miss if you eliminate them.
With many industries hurting for qualified workers, now is a good time to ask for a pay raise. So many companies are offering attractive hiring bonuses and benefits to lure new talent. Why not see what your company will offer you? If you've been at your job for some time, it's worth asking if you can level up your paycheck to meet market demands. If this isn't possible (or they say, "no"), looking for other opportunities in your industry may be the best way forward to increase your monthly earnings.
Interest rates are low right now, but they may not stay that way for long. That makes it the right time to call your credit card and loan providers and politely ask if they would consider a rate reduction. This works especially well if you have a record of paying on time. Clean payment record could see reductions of 1% annually or more, giving you a few more dollars each month to either pay down that debt or sock the extra away for a rainy day.
Did you stash your $100 on time or early? Congrats! You've proven that you have what it takes to set aside money and can now continue doing the steps to increase that cash savings goal to $200, $500, or even $1,000.
If you didn't quite meet your goals, it's still OK. You may need to look at your budget again to see if your strategy is too aggressive. Money management is a life skill that takes time, and improvement may not happen overnight. Add in some of the unexpected things that can happen in life, and you may have to adjust your expectations more than once to see success.
The important thing is that you have a goal, you track your money, and you always know how much you earn and spend. Follow this process for saving your first $100 or any goal amount. As your confidence grows, so will your rainy-day fund. Ready to meet your 2022 financial goals?
Learning how to save money is something anyone can do, although how long it takes you to meet your goals depends on several personal factors. Those with less disposable income may take longer to reach their milestones. However, remember that slow and steady savings progress can still get you there. If at any point you feel that you aren't making progress quickly enough, just keep following your plan. Never give up, and you can one day look back with a feeling of accomplishment and an extra $100 (or more!) you can use when you need it most.

Learn more about Brink's Money Prepaid Mastercard here!
1. IMPORTANT INFORMATION FOR OPENING A CARD ACCOUNT: To help the federal government fight the funding of terrorism and money laundering activities, the USA PATRIOT Act requires us to obtain, verify, and record information that identifies each person who opens a Card Account. WHAT THIS MEANS FOR YOU: When you open a Card Account, we will ask for your name, address, date of birth, and your government ID number. We may also ask to see your driver's license or other identifying information. Card activation and identity verification required before you can use the Card Account. If your identity is partially verified, full use of the Card Account will be restricted, but you may be able to use the Card for in-store purchase transactions. Restrictions include: no ATM withdrawals, international transactions, account-to-account transfers and additional loads. Use of Card Account also subject to fraud prevention restrictions at any time, with or without notice. Residents of Vermont are ineligible to open a Card Account
The Brink's Money Prepaid Mastercard is issued by Republic Bank & Trust Company, Member FDIC, pursuant to a license by Mastercard International Incorporated. Netspend is a registered agent of Republic Bank & Trust Company. Certain products and services may be licensed under U.S. Patent Nos. 6,000,608 and 6,189,787. Use of the Card Account is subject to activation, ID verification, and funds availability. Transaction fees, terms, and conditions apply to the use and reloading of the Card Account. See the Cardholder Agreement for details.
Mastercard is a registered trademark, and the circles design is a trademark of Mastercard International Incorporated.
Card may be used everywhere Debit Mastercard is accepted.
© 2022 Netspend Corporation. All rights reserved worldwide. Netspend is the federally registered U.S. service mark of Netspend Corporation. All other trademarks and service marks belong to their owners
More from our insights library: